Ebook: Think, Write, Paint, Publish.
I released another ebook on Barnes and noble.com! My other books were really encouraging. And I wasn't sleeping anyway. So behold, Pollywog to Frog.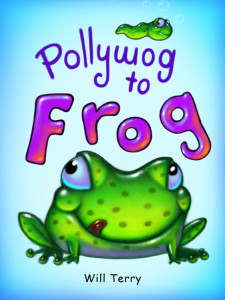 Two Things I really like about Ebooks
1) I love to draw fun simple little characters
2) I like to be able to pay my bills.
Publishing my own ebooks in my "spare" time allows me to do both. I carry my sketch book everywhere and so if I'm not writing I'm sketching and vice versa. Pollywog to Frog was written in the few hours I have in-between the two college classes I was teaching and the digital paintings were done in-between assignments. And oh yeah, an ebook costs so little to publish. Now anyone can compete with the big publishers.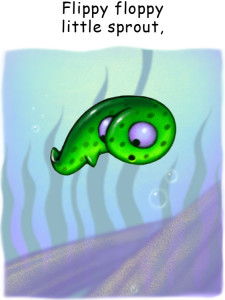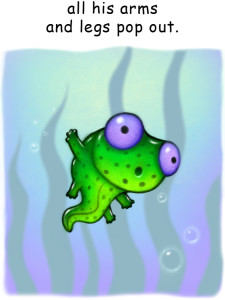 Ebooks: How to make money as an artist.
One of the best things we can do as artists and business people is develop passive streams of income. The ability to earn money while you're sleeping, playing, or working on other projects is a really cool thing. I'm already working on my next ebook.
If you can't write an ebook, find someone who can
If any of you feel comfortable illustrating but not writing and would want to work on producing an ebook, ask around, everyone knows someone who wants to write a children's book. Find a friend or relative, (Can relatives be friends?) to work with. If that doesn't work, I have a professional well known author who would love you to take one of his manuscripts and turn it into an ebook. And my buddy, also known as my brother in law is probably still available to take the finished jpeg files and produce the epub files necessary to publish your work. Just email me off list if you're interested: willterryart@gmail.com
Stay tuned for some Shameless Marketing below
5 ebooks that I recommend
So my three little claims to ebook fame are: Monkey & Croc, Tickle Bugs and Pollywog to Frog. none of which have made the New Your Times best seller list. A young friend of mine, OK, Wayne's daughter, has written two ebooks. I Love Chickens Eggs and Baby Chicks and When I Grow Up, I Want to be a Frog, and she is just a little girl. I think I told you this in my last post, but Hey! I want to encourage you.
PS Learn how to draw and paint, and other fun art skills at FolioAcademy.com.