Mountains of Paint: Artist's Paint Pallet, a Work of Art
I seldom use my pallet or acrylic paints any more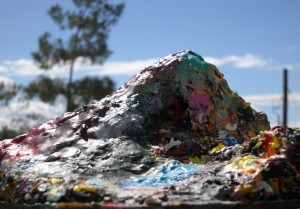 So I'm feeling bad because I just don't add to this creation any more.
What started out as an insignificant piece of Masonite that I pulled out of the trash,
turned into this big thick clump of endless layers of acrylic paint.
layers of paint since 1990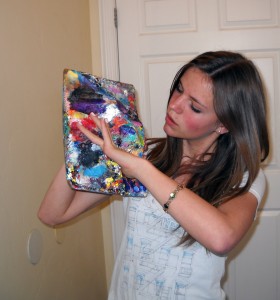 So I was looking for something I could blog about and then it occurred to me – my pallet! This mound you see before you is constructed out of all of the
acrylic
paint I've used since 1990! It started out as my friend Wayne's Masonite oil pallet.
Wayne
thought his pallet was too big so he cut it in half and tossed my half (the piece you see) in the trash. Way back then it was just a flat piece of 1/4 inch board. When I pulled it out of the trash and started using it as my acrylic pallet it began to grow.

Don't Throw it Away! It's got Character.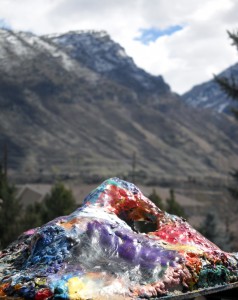 There was a time when I was going to discard it – it was growing out of control and I thought it would be easier to work on a new one. In fact I did carve some off a few times. But then I looked at it again – all bumpy,
colorful
and lumpy, Full of character and personality, We'd been through a lot together. "There there lil' fella, don't you worry – daddy isn't going to abandon you like Wayne did." (can you tell it's 2:00 AM?)

He's been around too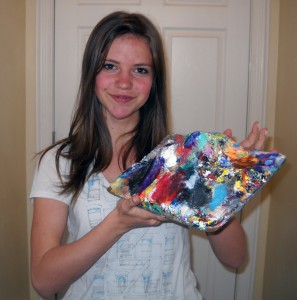 So here he is – I figure he's probably middle aged like me – lots of miles, like me and many more ahead, like me, (I hope). He's been to Maryland, California, technically Nevada and Idaho, but mostly he's lived here in Utah. Of the thousands of paintings I've done he's got parts of all of them in him.
 I think I'll name him Benjamin since I never had any run-ins with anyone named Benjamin.
There is an arch in there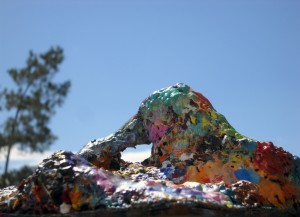 Oh, and that arch you see was at the request of my children constantly nagging me to sculpt some form into him – It took about 9 months to build the arch. Sometimes you just gotta ask yourself, "What would Dr. Seuss do?" I think his pallet would look a lot like Benjamin.