Come see Will and Wayne Tomorrow at Salt Lake ComicCon FanXperience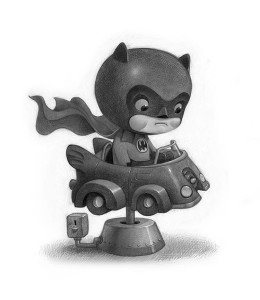 We get to go hang out for three days at the Salt Lake Comic-Con FanX for three days. We will have a booth and we'll be peddling Will's wonderful little Fan Art prints of young super heroes. Like little Bat Dude here and tons more. Bat Dude? Well I don't think we are supposed to just come out and reveal their real identity, what with copy right laws and all.
We usually just go for a walk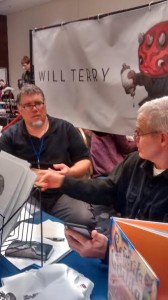 Every once in awhile you just gotta get out, hang out or take a walk. Will and I go to the boardroom about three times a week to walk, talk and just enjoy nature. The board room you ask? Oh yeah, that's what we call the great out doors, our board room. We live so close to the mountains that we just go for a short ride and we are out in the wonderful out doors. We call it the boardroom.
FREE Godzilla Stickers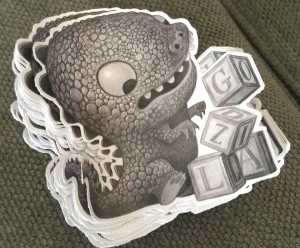 That being said, we will be giving away, FREE stickers of Little GoshZila  here to any and all of you who spend just $20 or more. So go get your money and dome see Will and Wayne at the Salt Lake ComicCon FanXperience March 24-26. That's 2016, just in case you are looking at this post some time in the future. Yup too late, if it is past March 26, 2016. But don't cry, there will be other opportunities.
Make money as an Artist
So there's a tip, one more way to make money as an artist. Create some art, take risk, spend tons of cash to make a bunch of prints or original pieces. Find a Comic Con type gig, spend tons more to rent a table or two. (But not in San Francisco, the table is cheap but they have a union or something, you can't carry or cart your own stuff to your table. You have to pay some thug about $400 to put in on his cart, if it all fits, and he'll take it there, if and when he has time. And if your stuff doesn't all fit on his little cart, he will decide if it does, then you just pay him another $400 to make another trip. We won't be seeing you in San Francisco) Spend more on a hotel if necessary, and the drive out there, set up, hang out for three days and HOPE that enough people buy your wares. And have good times. That's the most important part.

Learn how to Art online
Learn how to draw and paint, and other fun art skills at FolioAcademy.com.