What do you think of my digital art?
Went digi just four years ago and loving it 
Up until about January 2010, I only fooled around with
painting
in 
Photoshop
. I started out by painting backgrounds for my paintings in
Photoshop
due to the advice of 
Jim Madsen
  but never really tried to fully render a sketch or an Illustration. I remember the day after
Christmas
that year was a day for putting together toys, searching for more batteries, playing 
Acquire
, watching Avatar, and squeezing in a little time to experiment with Photoshop. This is what I came up with.

I made this sketch for a book that got canceled (bummer) but since I liked it I decided it would be the guinea pig.So, I'm looking for you to exercise your critiquing abilities – what do you guys think I could have done to make this a better piece? Not the following, but the boy, or is that a girl? by the tree.
A few day later, more digital artwork
A Love affair is born
Here is an excerpt from my journal shortly after my first date with 
Photoshop
:
"I have a new secret love affair and I'm pretty sure my wife will be down with it… until I spend too much time with her. Her name is 

Photoshop 

and she's so cute! The way she responds to gentle clicking – her color – and those deep dark shadows! Her pixels drive me wild!" ~

Will Terry
in the end I'm so happy with the process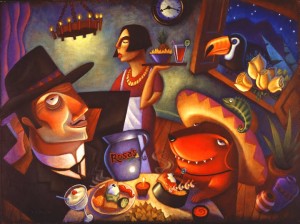 I wish I could take the credit but I must send a shout out to Jed Henry who wet nursed me through the process. Oh there were a few choice words at first – a tear here and there but in the end I'm so happy with the process he helped me with. Thanks Jed!
This was an old sketch I dug out to fool around with – he was originally sketched for a Rosa's restaurant painting I did 6 or 7 years ago. El Senior Monteban – quite dapper and oozing with confidence.