Should I do fine art for a gallery, or Illustrate?
I painted this thinking I wanted to do Gallery work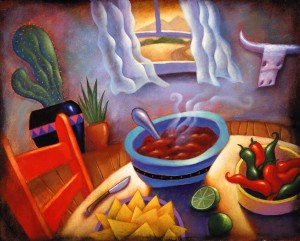 Oh the glamour and prestige of being a fine artist 
This was a painting I did when I thought it would be fun, exciting, Okay glamorous,  to sell fine art in a gallery… Don't we all just want to just paint for fun and hang our stuff in galleries all over the world and just kick back and sign autographs and check the mail box for money every day.
Now accepting offers from galleries for my art- Lol
So I had this south western idea and my own little style. I was creating my niche. Don't poke fun of the perspective, "I did that on purpose". (art speak) I painted this and really enjoyed doing it. No deadline, no art director, just me and the paint, and my dog Poochy bugging my to scratch her neck and go for a walk.
Then I realized that finding a gallery that wanted my work was going to be a stretch… and I would have to frame everything on my dime… and then there's shipping… and wearing an earring… and a black turtleneck sweater… and growing a ponytail… and pretending to be be tortured … and I would have to smoke peyote… and go vegan… and lose weight… plus I couldn't think of anything else I really wanted to paint… then I was glad I had an illustration career… and I scratched Poochy's neck and took a walk.
Life is wonderful