How would you Illustrate, Early?
If you were given a "carte blanche" assignment to illustrate the word, EARLY, what would you come up with. They say that if you give a thousand people the same task, they would come up with a thousand different ways to do that task. I would say that the same thing goes for ARTISTS. If you give a thousand artists the same assignment, (i.e. word or phrase to illustrate) you would get a thousand different ideas and portrayals.
Most illustrators use a step by step process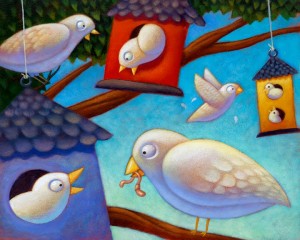 Now that I have posted this pic of bi
Art (slash) Illustration for a Magazine Cover
Magic carpet ride over bookish buildings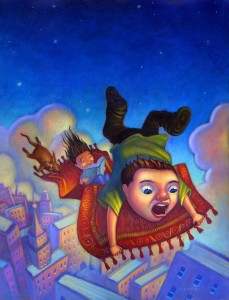 Kids having fun with a reading theme
I was excited to take this job. I was happy to
draw
and
illustrate
this fun assignment: "Kids having
fun
with a reading theme". It was a lot of fun to come up with the whimsical idea of a kid all freaking out on this wild magic carpet ride while his dog is hanging on like a pit bull and he little sister, or brother, not at all afraid of the potential danger all around, just curled up with a good book and having a great time.
My transition to digital phase
This was done during my "transition to
digital
" phase. I started my transition by saving time just going into
Photoshop
to crank out a quick back ground. Just spray in a gradient and print it out on good paper and vuala! Most of the boring part done. So this piece was a little painful because I produced it 100% in
acrylics
. Not because the client wanted it in acrylics. Not because I had more time to kill, but because my printer has finally given up trying to please me. We are no longer friends and I have banished it to the garage….And then we moved, and I hope that hateful printer is still in that garage thinking it will still have a life someday, and wondering why I haven't come and apologized and plugged him back in. Sense any hostility?
100% ACRYLIC PAINTING ON PAPER, THE OLD FASHIONED WAY.
So it was back to my old fashioned way of
painting with acrylics
. Tone the paper and painstakingly dry brush a gradient back ground and then finally get to the painting. Eventually, even that became too painstaking for me, and I have pretty well converted to 100% digi. (That is short for digital, I think) Ho the dread learning curve. Now I'm happy I made the switch. lol

Editorial Piece about Women Climbing the Corporate Ladder
editorial illustration from over a decade ago
Originally printed for Hispanic Magazine.
One of my oldies that I
painted
the old fashioned way with real
acrylic
paint and real
brushes
. Now days I do most of
my artwork
using pixels. Digital art work is just faster and… well you've heard me say it before and you'll hear it again. I am not dissing on
traditional painting
, in fact I love the real stuff. And I encourage every artist to learn to manipulate real pigment.
Looking at this takes me back. If you'll notice, I would paint or tone the canvas or paper, with a rather dark color, and then paint lighter colors on top and slowly build up the painting with a very dry brush. Leaving a lot of the toned background to show through. In a nutshell, that is
my acrylic painting style
.
I'm pulling this from the dark corners of my archive
Back when I did a lot of editorial work I created this. It reared its acrylic head again a few years back when I pulled it out of the flat file and entered it in an Illustration Friday deal for the word time. And now it shows up one more TIME.
Just wanted to post something a little different. It's about time, don't ya think?  : )