When can you stop learning your artist & illustration skills?
I'm so glad I don't have to learn anymore! After all I've been a professional illustrator for nearly twenty five years now, and I think I'm entitled to a break from improvement!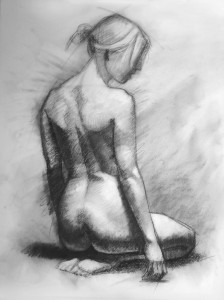 Of course I'm kidding. One of my core beliefs is that we can never stop learning and so I even started taking figure drawing classes awhile ago. I went nearly twenty years since my college days and it was painful. In fact, I have to say, I still don't feel that comfortable figure drawing. Will teaching illustration I sometimes sneak into Don Seegmiller and Perry Stuart's figure drawing classes at UVU here in Utah. Both are very talented artists and teachers and I have to admit I was a bit nervous because I'm supposed to be a colleague right? Now what I should do is post my first drawing I did in that class so we could see if I've improved at all, but I stuffed it into the garbage while nobody was looking. It was awful. I had that warm flushed feeling of shame and embarrassment. How could I be a college art teacher and produce something so poor.
I realized that I needed improvement
It was after that first drawing that I resolved to make it to their classes as often as I could to finally learn to draw the figure. I must say that not only has it been extremely rewarding to produce drawings that I'm somewhat proud of but it's also helped my everyday sketching. So I encourage all of you to break out of your comfort zone and learn something new. Even if it's figure drawing. You can't go wrong learning to draw the human figure.
And remember, you can learn something new at our wonderful Folio Academy website. I don't think we have a good figure drawing course yet, but we do have a good portrait painting course by J. Kirk Richards