HOW TO CARVE A PRIZE WINNING JACK-O'-LANTERN

  
50% off till Halloween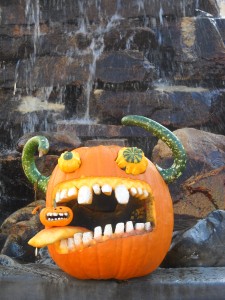 I'm very happy to announce TWO things  today. Our new video course staring me, Wayne Andreason, How to Carve a Prize Winning Jack-O'-Lantern, and even though it is only $9.99 we are offering it at half price through October, Happy Halloween.
50% OFF? How so? Promo code pmpkn
Could You Just Carve a Cool Pumpkin Like This without buying the course?

 
Why I carved this great pumpkin.
So I decided to carve the winner and let grandma pay for the parts. So we bought the pumpkin etc. and I made my daughter film it so I could pass it on to all you peeps.
Pumpkin Carving Process.
I start by designing it, drawing it, then drawing the face on the pumpkin, gutting it, carving it and then sculpting out the teeth, and the tongue. I attach the eyes, horns and tongue then carve a little pumpkin to put on the tongue and then paint and attach the little guy.
$50 GRAND PRIZE WINNING PUMPKIN!
(that does not say 50grand as in $50,000)
Halloween is almost here so I better go clean him off the front porch and make room for this years pumpkins and Jack-o'-lanterns. Besides, I don't want any trick-or-treaters slipping in him and getting hurt.