Oil Study, Practice for next Fall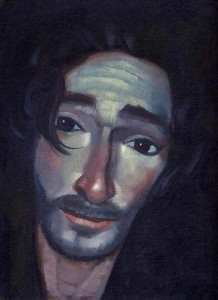 I can't believe school is already out, again! This means school is just a few months away.
I teach at UVU here in Utah and I thought I'd get a little practice before I start again this fall. I'm really looking forward to learning right along with my class –  I like to think of it like we're a bunch of mad scientists in our laboratory (pron: La-bore-a-tree) tinkering, combining, creating…basically making a mess and calling it work.
It has been so long since I've used real live oil paint. I don't think I am too happy with the way this one turned out but oh well. Practice makes perfect. It may do me some good to look at a few of our own lessons at folio academy. Maybe Beginning Oil Painting by Emily Gordon, or  Portrait Painting by Kirk Richards. Either way, we all need to practice. Well, most of us do.
I hope you have a wonderful summer. Practice practice practice.