Did I mention how much fun I am having?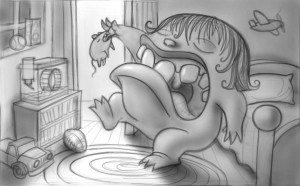 So anyway – working on this project is way more fun than getting hit by a car, twice. Wait, have I mentioned that I've been hit by a car? Twice? Well two different cars both while I was riding a bike? – not the same bike different bikes…and different cars – different years – and different drivers… I don't think they knew each other… both times it was my fault. I did however learn two big lessons –
1) I am stupid
2) I want to be in the car the next time I get hit.
3) I don't want there to be a next time.
Author's not: There are three kinds of people, those who can count and those who can't.
But wait – this is supposed to be about illustration, e-books, writing, apps, formatting, tablets, e-readers, illustratin, art wor doing, etc.
The story is about a monster
I am still working on the E-boo/ Monster app. In case you haven't figured it out yet, the story is about a monster that keeps steeling the household pets, and the boy just doesn't notice.
The sketches are for an iPad / iPhone App
Ok, Status: All of these monster sketches are for an ipad / iphone app that I am making. It has a story, is interactive, in color, animal friendly, eco friendly, kid friendly, and car friendly…. It will have friends. but you know what? SPOILER ALERT! It might not be really successful. But will I learn something. Yes. Am I enjoying the precess? Yes. Does the little voice try to get me down? yes. Do I let it? NO! And HEY! Maybe it will be a HUGE success. Feel free to cross your fingers for me. 
And have fun, do some artwork.