Have FUN while you create your artwork for more success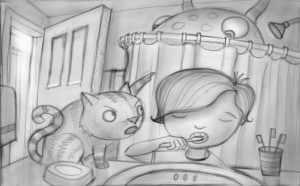 I am a successful artist, Why? Because I enjoy what I do.
"Learn to love work and you will love life." ~L Carl Andreason. "Find a way to make money doing what you love, and you will love work." ~G. Ken Nuttall
Successful artist having a blast
I am having a blast working on this little project – I'm not sleeping much lately because I'm busy doing real stuff too, but I am having fun, or at least, that's what I keep telling myself. As I get older I realize that we only have a short window to make it happen – whatever "it" is. I love the challenge of developing good instruction for my college classes, pleasing my freelance clients, pleasing myself on personal projects and my continued involvement on the day to day workings of Folio Academy.
I found a programmer and animator to help me see this picture book become an app, and see this vision through – I'm having so much fun – at work!!!
I am calling this project, "Monster App"