Little, Pop Culture Characters when they were young
Little is a collection of little or young, pop culture characters, or re-imagined pop culture characters as children, like when they were Little – printed in a collectible art book
HOW CUTE!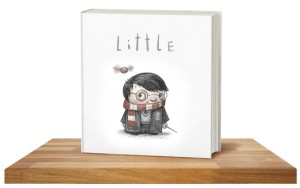 Will Terry has been drawing these little pop culture characters for about eighteen months on and off. At first it was just for fun but then it grew into an obsession.  After tabling at a hand full of "Cons" and selling hundreds of them – He realized he just had to put them in this book. You know, for the fans. How cute! they say. Folks love'm.
It's fun to see if you can tell who they all are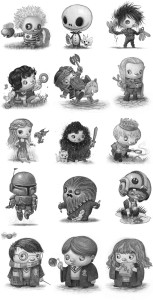 Kickstarter is another way for artists to make money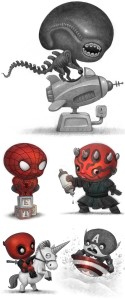 If you are an artist, and I hope you are, and if you love doing art, and I hope you do, you should be constantly thinking of ways to make money doing what you love. ART. Kickstarter is one more opportunity out there. Will Terry is giving it another try. Another Try? Yes, he didn't make it last time. So, being the die hard that he is, and the persistent artist that he is, he is doing it again. We will probably write about the success, or failure of this kickstarte in the future, but right now we are hoping to get a lot of support and momentum so that Will will have to spend countless evening mailing books, prints and posters to all his faithful fans that supported him in this endeavor.
Thank you and if you like the project, and I hope you do, please share it, pass it on, contribute support etc
– and check out more of what Will is up to, he teaches art at FolioAcadmy.com too of course.