Book signings are a lot of fun for authors and illustrators
My good friend Will here is just loving the opportunity to meet his fans and attending a book signing. One of the things you will love most about being a children's book artist going to the book signings and meeting fans and signing books that they can't wait to take home and read to their kids. If you look real close at our blog and our website, you will soon see that my good friend, Will Terry is the more talented and more famous artist here. I, Wayne Andreason, the other Folio Academy guy, don't have hoards of peeps asking me to sign anything yet. But I like road trips and fortunately Will and I get to do a lot of cool stuff together. Bro time, if you will.
Book Signing for artist and author at the CTA
A few years ago, Will was invited to attend a big convention and book signing op for the CTA (California Teachers Association) in L.A. Two years in a row they chose one of his picture books as their spot light book I guess.  He was chosen to be the CTA illustrator in conjunction with "Read Across America" and the CTA chose Armadilly Chili to be their "RAA" book for the state of California for 2010-2011. It was such a great gig because they print up posters, conference folders, pencils, stickers, and for Armadilly – mugs, T-shirts, a plush Tex, and even an apron. Also, Helen Ketteman the author of Armadilly Chili was there to sign books and she's a hoot. That woman has more energy than the sun!
We were lucky enough to go hang out in LA and eat good food. An awesome road trip on the tax payers dime.
We signed books that evening, well his book signing deal not mine, but I was there helping get books out for people, keeping the line steady, crowd controlling and that. It wasn't quite like a Justin Bieber concert but it was busy. Then were up at the crack of dawn to sign books all day Saturday. About 1000 teacher reps fly in from all over the state for their council meeting and most of them buy the books to take back to their districts for the upcoming read across America day on March 2nd.
"I was so lucky to get this opportunity!" ~Will Terry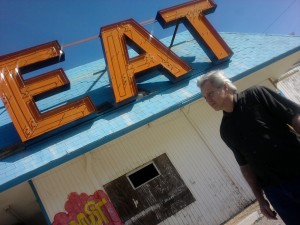 I was so lucky to go too and to share in the fun. We stopped in Vegas to visit family and eat. It's hard to believe it was so long ago. ~Wayne Andreason