Fairy Tale, Digital SpeedPainting of a Beautiful Girl in a Tower
Video looks better with the right music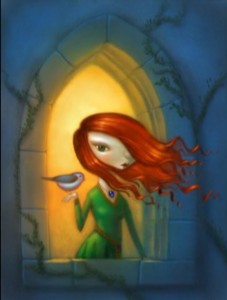 This little speed painting is set to a Tori Amos tune that makes this little digital speed painting look a lot nicer. It's funny how the audio can make the picture that much nicer. If you don't know what I'm talking about, watch this again with out the sound. Notice when you are watching a movie trailer or preview, the sound makes you want to watch the movie. try watching a few previews with the sound off, you will see what your not hearing. It isn't as pretty.
Painting

(with Photoshop)

Just for Because!!!
I love my work and I love the projects I'm working on but sometimes I get an urge to create something different and that feeling will gnaw at me until I stuff it with a free painting day.This was a sketch I did while in church (of course I was listening – shut up and just don't ask what the sermon was about) and I thought it would be fun to record it and set it to music – I was right. I've always loved this Tori Amos song too and it makes the speed painting look a lot nicer. I'm still loving Photoshop… but it made me want a bigger, badder, meaner, stronger, faster, (six million dollar) computer… and a Cintique. Which by the way, I now have. And I am loving that too. And since it is for my (art) business, it's tax deductible. (I am not a tax pro and this is not tax advice, please contact your tax professional for any tax deductions of which, you may be entitled. And there are a lot. I think) That being said, be self employed, it's worth it, I guarantee it. (that is not a guarantee)
Your friend Will Terry of Folioacademy, art lessons online.