Hungry Fox and the Midnight Pies,
by Jeff Dinardo & Will Terry
As I write this it is TBT Throw Back Thursday so..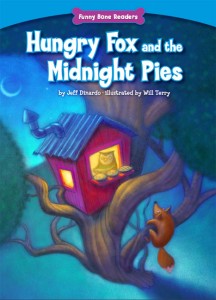 I did a book project awhile back, (it is TBT in my world or so I saw on Facebook) I worked on it with a wonderfully talented author and designer, Jeff Dinardo and it was a blast! It's really fun to work with a great designer because the end product is so much more successful. Check out 
Jeff's work
 – I'm sure you'll be impressed! This is a cute story about a fox by the name of Fox, who smells Owl's pies cooling on the stereotypical windowsill, as the sweet aroma wafts its way through the cool night air. Ignoring his limited climbing skills Fox begins up the tree to find a midnight snack. I won't spoil the ending but everyone ends up having a good time.I really enjoyed dreaming up,
designing
and
illustrating
Owl's tree house and
painting
the various scenes!
Fun Stuff
! Here's a smiley face for you from all of us at
folio academy